Today we start the new project of Custom Harley-Davidson. With the full set of the Custom Paint Job by EXTREME CUSTOM PAINT. and Change the wrinkle black parts to the chrome parts as the air filter cover, timing point, Horn cover and etc.
Today 14/05/11 it almost finished. As you an see in the pictures below:
Tomorrow we will work on it again.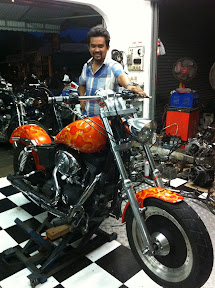 Please keep looking. Thank you